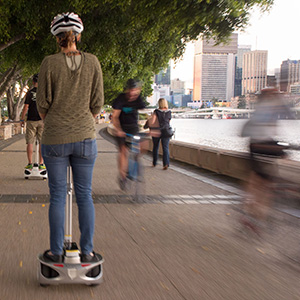 X-Wing Australia offers unique, safe and fun inner-city adventure tours on smart robotic personal transporters we call "robo-gliders".
Our robo-gliders are nimble, eco-friendly and super fun and allow riders to move freely around the sidewalks and pedestrian areas along with other pedestrians with ease and confidence.
High-tech advanced technology and innovative design allows these robotic personal transporter to be used in all weather conditions, different surfaces and hills with a slope of 35 degrees. X-Wing Australia robo-gliders can be operated by riders starting from the age of 6 years as well as people different physical capabilities. X-Wing Australia combines adventure, driving pleasure and sightseeing.
What is an X-Wing robo-glider?
Encased in a metallic colour exterior, the main body of the X-Wing robo-glider is made of a magnesium alloy which is used in the aerospace industry. The advanced dynamic stabilising system precisely calculates the rider's every body movement 200 times per second. Its ultra responsiveness grants the rider the ability to manoeuvre the X-Wing robo-glider as if it is an extension of their body. The X-Wing robo-glider uses a rechargeable lithium ion battery which charges in three hours, when charged it has a cruising speed of up 15km/h (depending on speed and terrain). It has zero carbon emissions and is highly energy efficient. The unique energy recycling system allows the kinetic energy generated from downhill and deceleration movements to recharge the battery making it a very energy efficient system. The handle height is adjustable allowing riders to position to their individual need and comfort.